Nina Tommasi
Ausbildung/Education:
2003-2007 University of Applied Arts, Vienna, Digital Art
1999-2004 University of Innsbruck, Architecture, Innsbruck, (A)
1998-1999 University of Technology Arlington, Architecture, Texas, (USA)
1996-1998 University of Vienna, TU Wien, Architecture, Vienna, (A)

Ausstellungen/Exhibitions:
2010 The Essence, Vienna
2009 FILE Festival, Sao Paulo / South America
2009 Leonardo/ACM SIGGRAPH, New Orleans, (USA)
2009 13th Media Art Biennale, Wroclaw / Polen
2009 404 Festival, Rosario / Argentinien
2009 Plutopia, Texas


Spectromorphologische Topologien_eine Versuchsanordnung über den Zeitkörper
2010, Construction from niro poles, multiphase motors, strings, multi channel sound boxes and graphic notation.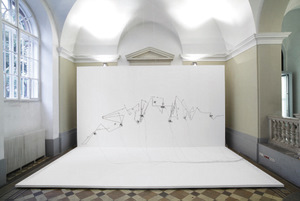 In der Arbeit wurde der Versuch unternommen, den tektonischen Körper (Objekt), den architektonischen Raum und den Klangkörper in einer zeitlichen Figur zu komponieren. Der zeitliche Verlauf dieser drei Dimensionen wurde graphisch notiert. In dieser Notation manifestiert sich die Gleichwertigkeit der architektonischen und klanglichen Körper im Sinne des Objet Sonore der Musique concrète. Der Ausgangspunkt des kompositorischen Konzeptes leitet sich von der räumlichen und zeitlichen Auslotung einer Felsstruktur ab, die sich in der Geometrie der Nirostangen übersetzt findet. Für die Gesamtgestaltung der Installation wurden zeitliche Faktoren wie Wind, Klang und Licht als wesentliche Teile miteinbezogen, und somit konstituieren Zeit und Raum als gleichwertige Parameter die dynamische Struktur der Arbeit.

In this work, it was attempted to compose a chronological figure from the tectonic body (object), the architectural space and the sounding body. The chronology of these three dimensions were graphically noted. The equality of the architectural and sounding body in the sense of the objet sonore in musique concrète is manifested in the notation. The starting point of the compositional concept is derived from the spatial and temporal of an exploration of a cliff formation which is translated in the geometry of the niro poles. For the overall design of the installation, temporal factors such as wind, sound, and light were incorporated as fundamental elements and in this way, time and space constitute the dynamic structure of work as equal parameters.