Celine Berger
*1973 in Saint Martin d'Hères, France, lives and works in Cologne

She worked as engineer in materials research and semiconductor industry. Postgraduate studies at the Kunsthochschule für Medien, Cologne since October 2009

Ausstellung/Exhibition:
2010, Heavy Matter, ISEA2010 Ruhr, Dortmund


Release
2010, installation, 24 speakers, control hardware, pure data script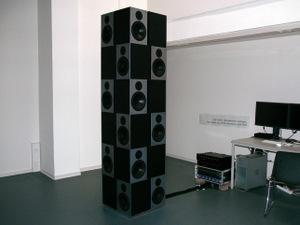 "We expect a lot from our employees.
And our employees, in return, expect a lot from us.
And that's the way it should be!"
Qimonda AG, Halbleiterhersteller,
Gründung 1.Mai 2006, Insolvenz 1.April 2009

Nach der Insolvenz blicken MitarbeiterInnen auf ihr letztes Arbeitsjahr zurück.
Über einen Turm von 24 Lautsprechern sind ihre Berichte zu hören. Die Stimmen überlagern sich zu einer Gesamtkomposition. Nur wenn die Zuhörerin und der Zuhörer sich einem Lautsprecher nähert, kann der entsprechende Beitrag verstanden werden. Die Audiowiedergabe wird von einem für die Installation entworfenen Programm gesteuert, welches die Erzählungen periodisch kurz innehalten lässt. Von Zeit zu Zeit verstummt der Turm vollständig. Die Wahrnehmung der Zuhörerin und des Zuhörers wird in ihrer Kontinuität ständig gebrochen. In Release steht die Artikulation der eigenen Erfahrung für den Versuch, in der Unsicherheit komplexer Situationen - im Rauschen - Klarheit zu schaffen, ein klares Signal zu erzeugen. Im Gesamtrauschen der sich überlappenden Erfahrungsberichte heben sich einzelne Signale ab. Die Installation untersucht neue Bedeutungsebenen, die entstehen, wenn Signale an der Grenze des Rauschens gehalten werden.

Following the insolvency of their company, 23 ex-employees disclose their experience of the slow deterioration of their working environment. The recordings of these reports are simultaneously played from a compact tower of loudspeakers. Individual voices, speaking from very different positions, emerge from the overall polyphony of the group, while periodic interruptions gradually reduce them to silence.