Agnes Fuchs
* in Wien
* in Vienna
2012: Météorologies mentales. oeuvres de la collection Andreas Züst,
centre culturel suisse, Paris
2011: on occasion of a 2nd Post-Expedition Meeting Expedition 313, Artists contribution: Video, Sutton
Building, University of Utah, SLC, USA; Space About a Dream Kunsthalle Wien, Vienna.
2009: Select Your Interpretation, HWK-Institute of Advanced Study, Germany. 2008 This could put us years
ahead, Georg Kargl Box, Vienna.
The Berkeley Physics Laboratory Setting / 2
2011, Acrylic on canvas 135 x 170 cm.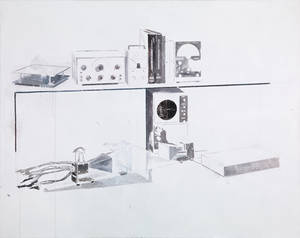 In The Berkeley Physics Laboratory Setting / 2 ist die Malerei das Medium der Analyse und der Dekonstruktion. Diese De- und Rekonstruktion verändert das technische Setting und transferriert es als "Bild" und Untersuchungsgegenstand
in den Kontext der Kunst.
(…) Das Physik-Laboratorium von Heath Berkely stellt eine komplette, in sich geschlossene Anlage dar... Die Instrumente von Heath sind speziell dafür geeignet, die Grundkonzepte der Physik darzustellen. Diese Funktion ist ein natürliches Ergebnis der Produktionsmethoden von Heathkit-Elektrogeräten (…) Die Produktionsmethoden von Heath führten zu dem Entwurf und der Konstruktion von sowohl der Spiralen wie auch der Kathodenröhren auf eine sichtbare, aber geschützte Art und Weise. Heath-Instrumente liefern die Fortschritte der Technik an die Studenten nicht als Hindernis (so wie die berühmt-berüchtigte "Black Box"), sondern in der Form von kontemporären Instrumenten, deren Funktion leicht verständlich ist (…)
S.2. Manual/ Berkeley Physics Laboratory, Heath Company 1965/ Benton Harbor, Michigan
Archivmaterial Abb. Cover, Manual der Heath Company 1965 / Berkeley Physics Laboratory
Painting is the medium utilized for analysis and deconstruction in the piece The Berkeley Physics Laboratory Setting / 2 .This de- and re-construction transforms
the technical setting and transfers it, as an "image" and as an object of inquiry,
into the context of art.
"(...) The Heath Berkeley Physics Laboratory Station Provides A Complete, Self-Contained Unit... Heath instruments function especially well to illustrate the
basic concepts of physics. This function is a natural outcome of the production methods for Heathkit electronics. (...) Heath production techniques led to the
design and engineering of both the coils and the CR tube mounting so that all
basic components are visible, yet protected. (...) Heath instrumentation brings
the advances of technology to the student not as a bulwark to learning (such as
the infamous "black box"), but as up-to-date instruments whose functions are
readily understandable. (...)"
Page 2. Manual/ Berkeley Physics Laboratory, Heath Company 1965/ Benton
Harbor, Michigan
Depiction of the cover of the manual from the archives, Manual of the Heath Company 1965 / Berkeley Physics Laboratory