Ulrike Gabriel
*1964, lebt in Berlin
*1964, lives in Berlin
2012: Revolve, Dominikanerkirche, EMAF Osnabrück
Exhibition of Electronic Media HfG O, EMAF Osnabrück
2010: Silicon Dreams, Tabakalera, San Sebastian
Agents 2.0, ISEA 2010, Dortmund
2009: Agents 1.0 -Container, Paraflows, Vienna
trash hits - dumping, searching and finding. Cleaning.
2009-2012, Tools for surveillance and analysis, Java-based screening software, Database with 8 Million Webcam-JPGs, Trashhit USB Interface
Thanks to Fernando Crespo, Jens Heise, Stephan Blanché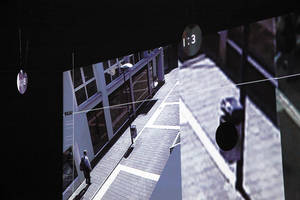 Trash Hits ist ein Data Mining zur Krise, das ihre Auswirkung alternativ bemisst.
Ein exemplarischer Abfalleimer in einer deutschen Fußgängerzone wurde im Juni
der Jahre 2009 und 2010 per Webcam aufgenommen. In ihn werden die letzten
Reste des Konsums eingeworfen und wieder herausgenommen. Bei der Mes-
sung dieser Ereignisse erweist sich der Eimer als ein Schauplatz des sozialen Wandels, in dessen verschobenem Verhältnis von In- und Output die wachsen-
de Armut sichtbar ist.
Trash Hits zeigt wie Ereignisse zu Zahlen werden und triggert damit
verbundene Fragen. Mittels des Systems zur empirischen Datenerhebung wird
die statistische Wirklichkeit rekonstruiert, wobei der Übertrag der dokumen-
tierten wirklichen Ereignisse in ihre Zahlen- Repräsentation zeitgleich zu diesen
und sichtbar stattfindet. Das Erlebnis dieser transparenten Daten-Werdung erzeugt Ansichten auf eine alternative Information, die offizielle Statistiken kontrastiert.
Trash Hits constitutes data mining on the crisis that measures its impact in an alternative manner. An exemplary trash can in a German pedestrian zone was
recorded by webcam in June 2009 and June 2010. This is where the last rem-
nants of consumption are thrown away and taken out again. In the
statistical evaluation of these events, the can proves to be a scene of social
change. The growing poverty can be seen in the shift of the proportion of what
is placed into the trash can and what is taken out of it.
Trash Hits shows how actual events become numbers and thereby triggers associated questions. Statistical reality is re-constructed by means of system-
atical empirical data collection, whereby the documented actual events have an
immediate and visible representation in the numbers. The experience of this
transparent conversion of data creates the perception of an alternative information that is in contrast to the official statistics.