Hanakam Schuller
Hanakam *1979, lebt und arbeitet in Wien und Essen
*1979, lives and works in Vienna and Essen
Schuller *1984, lebt und arbeitet in Wien und Essen
*1984, lives and works in Vienna and Essen
2012: Crystal Cathedral, Museum Moderner Kunst Kärnten, Klagenfurt
Japan Media Arts Festival – Video Works
2011: Art Division, d-labo und National Art Center, Tokio
4th Moscow Biennale of Contemporary Art, Moskau ISEA
2010: 17th International Symposium for Electronic Arts, Istanbul
Palaces & Courts, MAK Österreichisches Museum für angewandte Kunst/Gegenwartskunst, Wien
invasion
2010, HD-Video, Stereo, Colour, 6.01min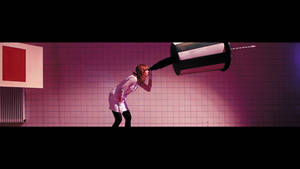 Es gibt einen umfassenden Schatz an theoretischen Reflektionen über den
Begriff des Apparatus in der cinematografischen Theorie, der sich ebenso auf
die Fotografie übertragen ließe. In dem Kurzfilm invasion konzentrieren sich
Hanakam & Schuller auf diese wundersame und magische, aber auch ideo-
logisch behaftete Maschine, die gleichzeitig eine Narration über die Realität wie
auch über ihre eigene Geschichtlichkeit produziert. Der Film zeigt ein zum Teil
absurdes und zugleich doch rekonstruiertes Equipment, dessen Design Holz-
schnitten aus dem 1849 veröffentlichten Kompendium "The History and Practice
of the Art of Photography: Or the Production of Pictures through the Agency of
Light" folgt. Die Szenerie zeigt verschiedenartige Bewegungen und Funktionen
des Apparatus. Die Atmosphäre ist die eines Science-Fiction-Films, indem die
Maschine einen essenziellen Part der Story darstellt und zu einem eigen-
ständigen Charakter unter anderen wird. Der Titel Invasion bildet die Verbindung zwischen der Ikonografie dieses spezifischen Genres, Jean Baudrillards Idee der Fotografie als "self-thinking" (selbst-denkender) Kosmos und der Idee eines Momentes ... indem die Welt still steht vor der Invasion der Fotografie.
There is a whole body of theoretical reflection about apparatus in cinema theory
that could also be passed on to photography. In our short film we focus on this
wondrous and magical, but also ideological machine that produces a narration
about reality as well as a narration about itself. The film will show partly absurd,
partly reconstructed equipment, whose design is following descriptions and
wood cuts of the compendium "The History and Practice of the Art of Photo-
graphy; or the Production of Pictures through the Agency of Light" (1849). The
scene shows various movements and settings in handling the apparatus. A
male voice over accompanies the scene. The atmosphere is similar to the genre
of Science Fiction, where the machine becomes a crucial part of the story; it
turns into a character amongst the others. The title "Invasion" creates the
triangle between the iconography of this specific filmic genre, Baudrillard's idea
of the photography as a "self-thinking" cosmos and the idea of a moment
...when the world stands still before invasion of photography...