Anna Fríða Jónsdóttir
*1984 in Reykjavík (Island), lebt und arbeitet in Wien
*1984 in Reykjavík (Iceland), lives and works in Vienna
Solo Exhibiton
Kaffistofa, "Allsnægtar Annað" Feb. 2010. Reykjavík.
Selected group exhibitions
2012: Ve.Sch. Internal error. Wien
2011: The Natural History Museum Vienna. Things that talk. Vienna Art Week
The Confected Archive of Kling & Bang. Hamburg
Paremeter World. Die Angewandte. Vienna
2010: Iceland Art Academy, Final Exhibition. Reykjavík Art Museum. Curator:
Daníel Björnsson. Reykjavík
Thought Interpreter
2011, Arduino controlled motors connected to a feeding device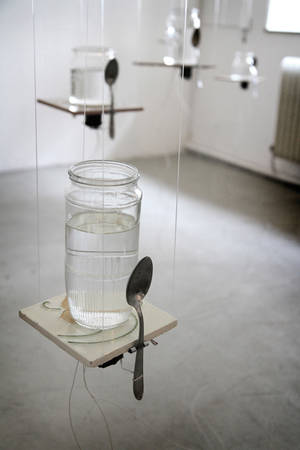 Niemand kann sagen, wie sehr wir von den Menschen in unserer Umgebung
beeinflusst werden, da es keine Möglichkeit gibt, den Einfluss zu messen.
Dennoch bemerken wir es, wenn uns jemand von hinten anstarrt. Wir sind auf
die eine oder andere Weise in Verbindung aber niemand weiß wirklich wie. Der
Thought Interpreter soll genau diesen Aspekt unserer biologischen Bauweise verkörpern. Diese kleinen Augenblicke, die wir von anderen Menschen im Alltag
wahrnehmen. Ihre Subtilität und die Frage, ob wir sie überhaupt bemerken. Die
Arbeit bezieht sich auf Forschungsarbeiten darüber, wie Gefühle und Bedeu-
tungen sich auf die Molekularstruktur von Wasser auswirken könnten und wie
wir diese Gefühle aussenden und empfangen. Nachdem Wasser das beste
Lösungsmittel der Welt ist könnte sich zum Beispiel etwas ganz Persönliches
von jedem lebenden Bewohner unter der Stadt im Abwassersystem befinden?
Eine unterirdische Stadt aus Gedanken und Gefühlen, die die Gefühle der
Realität, den allgemeinen Gefühlszustand einer Stadt widerspiegelt? Der
Thought Interpreter ist mein abstrahiertes Beispiel für Spiegelung in Systemen,
seien sie klein oder groß, jeder einzelne, sein eigenes System und im großen
Maßstab.
No one really knows how much we are affected by the people around us since
there is no way of measuring it and yet we always know if someone is staring
at us from behind. We are connected in one way or another but no one really
knows how. This part of our biological engineering is what the Thought
Interpreter is supposed to embody: the subtle little ticks from other people we
gather in our everyday life, and how it is we are able to sense them at all. The
work relates to research on how emotions and meanings could effect the struc-
ture of water molecules and how we give and receive these emotions. Since
water is the world's best solvent, could something very personal from every
living resident be residing underneath the city in the sewer system? Are we
creating a sub city of thoughts and emotions mirroring reality, a reflection of the
overall emotional state of a city? The Thought Interpreter is my abstracted
example of this mirroring in systems, whether small or large, every person, its
own system and the grand scale.