Linda Kronman + Andreas Zingerle
Linda Kronman *1979, lebt und arbeitet in Helsinki
*1979, lives and works in Helsinki
Andreas Zingerle *1980, lebt und arbeitet in Innsbruck
*1980, lives and works in Innsbruck
2012: Contemporary Art Ruhr, Ruhr
2011: ACM Cyberworlds, Banff Center, Banff
2010: Amnesty International Human Rights Art Festival, Washington D.C.
2009: File, Rio de Janeiro
Ars Electronica, Linz
Re: Dakar Arts Festival
2010, Interactive transmedia installation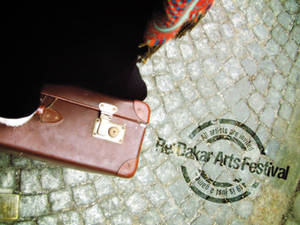 Das Projekt Re: Dakar Arts Festival dokumentiert eine neue Kunstbetrugsform.
Die Scammer kontaktieren Künstler und Galerien mit einem Open Call eines nicht
existenten Festivals in Dakar, Senegal. Um professionell zu wirken, nehmen sie
verschiedene Identitäten an. Um die Scammer zu scammen, wurden drei vir-
tuelle Charaktere erschaffen, komplett mit Onlineidentitäten. Erforschen Sie ihre
Geschichten online und in einer Installation. Lesen Sie ihre Blogs oder werden
Sie Facebook-Freund, um mehr über den Verlauf dieses Kunstbetrugsfalls zu
erfahren. Verfolgen Sie die Cybercrime-Geschichte, werden Sie ein Mithelfer der
Anti-Scam-Bewegung und erfahren Sie, wie die Scammer vorgehen, um zu ver-
meiden, selbst zu einem Opfer zu werden.
The Re: Dakar Arts Festival project documents a new art scam form. The
scammers approach artists and galerists with open calls for a fake festival in
Dakar, Senegal. To appear professional, they adopt different identities. To un-
veil their practice, three virtual characters including their online identities were
created to scam the scammers. Investigate their stories in an installation and online. Read their blogs or become friends with them on Facebook to unveil
more details about the art scam plot. Follow the Cybercrime story, become a
facilitator of the anti-art scam movement and see how the scammers operate to
avoid becoming a victim yourself.