Claudia Larcher + Leo Peschta
Claudia Larcher *1979 in Bregenz, lebt und arbeitet in Wien und Berlin
*1979, lives and works in Vienna and Berlin
Leo Peschta *1978, lebt und arbeitet in Wien
*1978, lives and works in Vienna
Baumeister, ORF Funkhaus, Dornbirn (Einzelausstellung)
Diagonale, Festival des österreichischen Films, Graz
2011: Empty Rooms, Coded Cultures Festival, Glockengasse No9, Wien, (Einzelausstellung)
Hauntings, steirischer Herbst, Kunstverein Medienturm, Graz
Claudia Larcher – Heim, Galerie 22,48 m2, Paris (Einzelausstellung)
Leo Peschta
2012: Soft Control, Maribor
2011: transLife, National Art Museum of China, Peking
Ars Electronica, Wovon Maschinen träumen
Gebäude des Konzernschauraums von VW, Unter den Linden, Berlin
2010: Ars Electronica, Tabakfabrik, Linz (Einzelausstellung)
Process as Paradigm, Laboral Centro de Arte y Creatión Industrial, Gíjon
http://www.kunstmafia.com/clar/web/clar9000.mp4
clar9000
2005, interactive object, arcade game machine, pc, display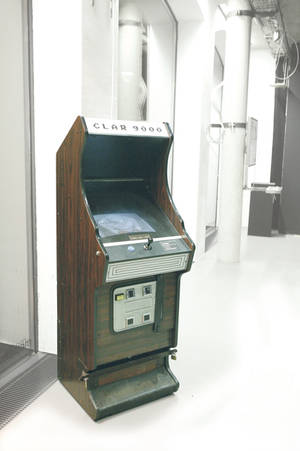 CLAR 9000 ist ein Exponat der Gruppenausstellung Insert Coin der Künstler-
gruppe ZugZwang Zukunft. Die Ausstellung Insert Coin nimmt sich dem liberal-
isierten Markt als moderne "Spielhölle" an und transformiert diese in den
Kunstkontext. Acht revitalisierte und modifizierte Arkade-Spielautomaten er-
möglichen dem Konsumenten den Zugang zu den inkorporierten Medienkunst-
werken durch ein vertrautes Interface und Handling. Der Automat CLAR 9000 ist
ein klassisches Arcade-Spiel mit einer nicht immer anwesenden "Humaneinheit",
in diesem Falle die Künstlerin selbst. Durch den Joystick steuert man die Zeichenbewegung der menschlichen Game-Engine. Im Laufe des Spiels ent-
puppt sich der CLAR 9000 als eigenwilliger Algorithmus, der selbstständig
agiert, und der Spieler sich der künstlichen Intelligenz unterordnen muss.
CLAR 9000 is a work from the group exhibition "INSERT COIN" of the artist
group "ZugZwang Zukunft" (Zugzwang Future). The exhibition "INSERT COIN"
approaches the liberalized market as a modern "gaming arcade" and trans-
poses it into the context of art. Eight refitted and modified arcade game
machines enable the consumer to connect with the manifested media artworks
using familiar interfaces. The machine CLAR 9000 is a classic arcade game with
an occasionally present "human unit", in this context the artist herself. The
joystick allows you to control the drawing movements of the human game
engine. During the process of the game, CLAR 9000 emerges as a wilful algorithm which acts independently: forcing the player to subordinate himself to
the artificial intelligence.