Sonia Leimer
*1977 in Meran, lebt und arbeitet in Wien
*1977 in Meran, lives and works in Vienna
2001–2004 Studium an der Kunstakademie Wien
Einzelausstellungen (Auswahl)
2012: Space Holder, Gallery Nächst St. Stephan,Rosemarie
Schwarzwälder, Wien
Undefiniertes Bauvorhaben, BIG, Salzburg
Bend a bow , MAK Center Garage Space, Los Angeles
Lungo quelle linee, Museion, Bozen
2011: Uns so weiter, Kunstverein Basis Frankfurt
2010: Neither in Motion nor at Rest, Bawag Contemporary Wien
Not Site to Fall in, Salzburger Kunstverein, Salzburg
Ausstellungsbeteiligungen (Auswahl):
Sleepwalking II, Freies Museum Berlin, Berlin, The world as a backdrop , Galerie im Taxispalais, Innsbruck
Pro Choice, Kunstverein Schattendorf, Schattendorf Premio Cairo, La Permanente di Milano, Milan* ASAP,
Beijing The Invisible Play, Istanbul Fractional Systems. Garage Project II, Mackey Garages, Los Angeles
Triennale Linz, Lentos Kunstmuseum, Linz (curated by Nina Kirsch and Stella Rollig)* Sleepwalking,
Temporary Gallery Cologne Audio Prop. See this sound, Lentos Kunstmuseum, Linz Trick of Light, MOP,
Sidney, Australia Manifesta 7: Principle Hope. Manifestation, Rovereto, Italy, Reconstructed, Kunsthalle Exnergasse, Vienna
Not yet there, already gone
2012, Rückprojektion, Spiegel, Stahl, Projektor, Auflage 3 + 1 AP,
130 x 103 x 65 cm
special thanks to Thierry Legault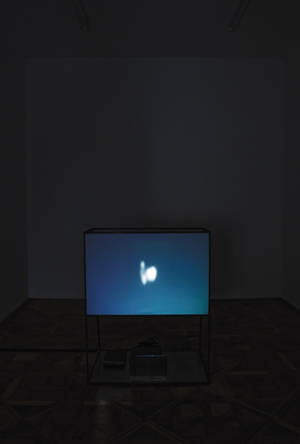 Ein Objekt für Rückprojektion reflektiert über Spiegel die Videoaufnahme einer
Reflektion des Sonnenlichts auf der Raumsonde Phobus Grunt. Kurz nach der
Aufnahme dieser Lichtbilder verglühte die Sonde beim Wiedereintritt in die
Atmosphäre, nachdem sie zuvor ausser Kontrolle geriet und als verschwunden
galt. In komplexer Art und Weise greifen in Sonia Leimers künstlerischer Praxis,
die sich gerade auch durch ihre Deutungsoffenheit und vielgestaltigen An-
schlusspunkte auszeichnet, die Kategorien Raum und Zeit sowie die Frage nach
der Bedeutung des Materials im Kontext seiner konzeptuellen Bearbeitung
ineinander.
An object for back projection reflects a video recording of a reflection of sunlight
on the orbiter Phobus Grunt from mirrors. Shortly after these images were
recorded the orbiter - having spun out of control and deemed lost - burnt up
during re-entry into the Earth's atmosphere. Sonia Leimer's artistic conception
stands out for itsinterpretive openness and diverse connection points and
creates a complex intertwined work of art with the categories of space and time
andquestions about the material's significance in the context of its conceptual
processing.
Bild/Image: Not yet there, already gone, 2012 / Courtesy of the artist and
Gallery Nächst St. Stephan