Flora Watzal
*1975, arbeitet in Wien
*1975, works in Vienna
2012: Diagonale 12; VIS Vienna
2011: Der weibliche Blick. Part 1 – aus der Sammlung Spallart, Fotoraum,
Wien, kuratiert von Anja Manfredi
2010: Denumerable Infinite: Galerie Stadtpark, Krems, gemeinsam mit
Siegfried A. Fruhauf
NinteenEightyFour: Austrian Cultural Forum, New York, kuratiert von
David Harper, Martha Kirszenbaum, David Komary
2009: Bewegende Räume: Kooperation von Diagonale und Haus der
Architektur Graz, HDA im Palais
Thinnfeld, Graz
sTrobogramm
2011, Video, Stereo, 16:9, 2:30 Minuten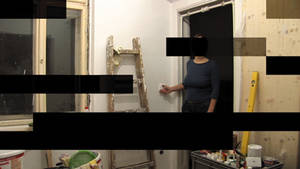 Das Videobild ist in ein Raster vieler kleiner Ausschnitte zerlegt, die der Reihe
nach jeweils um acht Frames zeitlich versetzt sind. Eine Frau betätigt immer
wieder einen Lichtschalter. Die daraus entstehenden Soundüberlagerungen
bilden sich stetig wandelnde Rhythmen. Auf der visuellen Ebene rückt das
Geschehen ausschnittweise wie in einem Schieberegister von links oben nach
rechts unten vor. Die einzelnen Felder überschreiben sich permanent, nie ist ein Moment als Gesamtes fassbar.
Wird das Licht für einen Augenblick ausgeschaltet, entstehen schwarze Flächen,
die an digitale Störungen erinnern. Sie queren die Bildfläche, ähnlich dem
Prozess, den jedes Videobild durchläuft, indem es nicht als Gesamtes, sondern
zeilenweise Pixel für Pixel wiedergegeben wird. Das Nacheinander gerät ins
Nebeneinander. Das Bild fügt sich zu einer Art Diagramm, in Analogie zu Video
als Darstellung, Wiedergabe, Beschreibung, Text. Das starke Blinzeln der
Darstellerin kommt von den Lichtwechseln, die nebenbei – wenn auch für die
Betrachtenden nicht sichtbar – auf ihrer Netzhaut Nachbilder produzieren, ein
Phänomen, das bekanntlich neben dem Stroboskopeffekt beim Bewegungs-
sehen eine Rolle spielt.
A video image is fragmented into a grid of many small sectors, each of which is
time-shifted by 8 frames more than its predecessor. A woman activates a light
switch again and again. The resulting sound collage forms continuously changing rhythms.
On the visual level, the activity shifts from the upper left corner to the bottom
right corner, like in a shifting register. The different sectors are constantly re-
written, the moment can never be grasped as a whole. When the light is
switched off for a moment, black areas are created that are reminiscent of
digital errors. They wander through the image similar to the process wherein
videos are displayed, not as a whole, but pixel by pixel. The subsequent collides
with the parallel. The image turns into a sort of diagram, an analogy to video as
depiction, rendition, description, text.
The frequent blinking of the performer is due to the constant changes in light,
which also produce after-images on her retina – although this is not visible for
the observers – a phenomenon which is known to be important for the
perception of motion, along with the strobe effect.