Andreas Strauss
*1968
Studium an der Kunsuniversität Linz bei Helmuth Gsöllpointhner, dem Initiator des "Forum Design und Forum Metall" Festivals. Neben eigenen Arbeiten Zusammenarbeit mit Gruppen wie Time's up, Toxic Dream, Bilderwerfer und dem Rationalisierungsinstitut.
Studied and graduated at the Art University Linz in the class of Helmut Gsöllpointhner, the initiator of the 'Forum Design and Forum Metall' Festivals. Besides my own projects I am also involved in various art groups like Time's Up, Toxic Dream, Bilderwerfer, isation.org
Projektauswahl Selected Projects:
2013 dasherrengassenbad ausstellung cuckoo kunstraum nö
ts_002_lux künstlerhaus wien
2010 "polymobil" Kunst am Bau Ottensheim "dasparkhotel_bernepark"
zweiter dasparkhotel Standort in Bottrop bei Essen
"Proposals for Venice" Landesgalerie Linz mit Elfi Semotan
collapsonomics Raumkonzept für toxicdreams -brut wien
kantinestrauss ii kulturquartier oö
soupertonne guggenheim urban lab berlin 2012
2009 "embedded art" Kunst im Rahmen der Sicherheit Akademie der
bildenden Künste Berlin "90° Kiosk" Ausstellung Höhenrausch Linz 09
"ts_001_lux" mit Viktoria Tremmel - local strategies urban signs -
Wien skulpturenpark berlin
soupermobil
2012, 770 Liter Tonne mit 2 Stück 3,5 kW Induktionsfeldern / 770 liter barrel with two 3,5 kW induction fields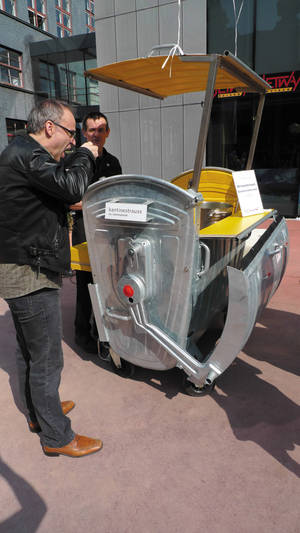 ... essen als soziale Interaktion im urbanen Umfeld ... slow fastfood, fast slowfood ... mobile Küchen basierend auf einer handelsüblichen Mülltonne, die durch einige wenige Eingriffe und Adaptierungen zur voll funktionstauglichen Minimalküche mutiert.
Ein Gerät, das hungrige Menschen mit hervorragend frisch Gekochtem versorgt und diese gleichzeitig in ihrer Auseinandersetzung mit heutiger Essenskultur unterstützt.
Ein Apparat, der sich durch seine hinlänglich bekannte Erscheinungsform dem Stadtraum nicht als neues Highlight aufzudrängen versucht, ihm aber gleichzeitig ein wenig von der Tradition der mobilen Küchen zurückbringt, wie sie lange üblich waren, und wie wir sie heute nur mehr in Teilen Europas und in Asien finden.
... eating as social interaction in an urban environment ... slow fast food, fast slow food ... a standard garbage bin which transforms into a fully functional mini kitchen by way of just a few manual interventions and manipulations.
A device providing hungry people with a superb and fresh meal while at the same time helping them in their examination of today's food culture.
The soupermobile is not trying to impose itself as a new highlight in the urban space, its shape is very familiar. But at the same time it wants to give back a little bit of the tradition of mobile kitchens which used to be very popular for a long time but today can only be found in parts of Europe and in Asia any more.