Letizia Werth
*1974 in Südtirol, I, lebt und arbeitet in Wien
*1974 in Südtirol, I, lives and works in Vienna
2013 Zeichnen! Zeichnen! k/haus, Wien
2012 Raum und/oder Ort, basement, Wien
Stillstand und Beschleunigung, [ausarten], Wien
Poli d'attrazione, Italienisches Kulturinstitut, Wien
2011 open source carneval, open source gallery, New York
Stipendien
2013-2018 Förderatelier des Bundes (bm:ukk), Wien
LIVE-Projekt: Wasserfall
2013, Partizipatives Projekt mit fließenden Fotos (Video & Performance) / Participatory project with flowing photos (video and performance)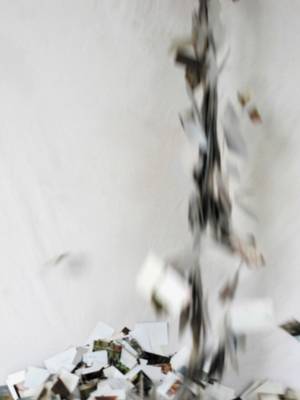 Letizia Werth greift in vielen ihrer Arbeiten auf alte private Papierfotos zurück, die in der heutigen Zeit nicht mehr gebraucht werden und z.B. auf Flohmärkten "entsorgt" werden.
Im Live-Projekt Wasserfall werden Massen dieser privaten Kulturdokumente, die unser Leben beinahe manisch begleiten, zu einem Schwall von fallenden und fließenden Fotos. Es entsteht eine Bilderflut, die wie ein tosender Wasserfall sichtbar und spürbar an uns vorbei rauscht. Die Videoarbeit zeigt diesen endlosen Fall fliegender, sich wiederholender Momentaufnahmen. Bei der Ausstellung können eigene alte Fotos direkt in eine offene Bilderbox "entsorgt" werden, um so zur Live-Bilderflut der Abschluss-Performance "Wasser|fall" beizutragen.
In many of her works, Letizia Werth uses old private photos which are no longer needed these days and are 'disposed of' at flea markets for example. The live project 'waterfall' creates a torrent of falling and flowing photos with these private documents which used to accompany us through our lives in a way that could be described as almost magical. The result is a flood of images that, visible and tangible, rushes past us like a roaring waterfall. The video shows an endless fall of snapshots. In the exhibition one can 'dispose of' old photos directly into an open box, and by that contribute pictures to the final performance 'water|fall'.