Miriam Hamann
*1986 in Wels, A, lebt und arbeitet in Wien lives and works in Vienna
2013 Ohne Schritt / Einzelausstellung / UBIKSpace, Wien
Soundarbeit zu den Wiener Soundspaziergängen im Rahmen von
«Passagen/Passagiere.
Szenen und Riten des Übergangs» / MQ, Wien
2012 Morgen kommt Besuch, «Photomeeting Luxembourg»/ Galerie beim
Engel, Luxembourg
2,1km, «Again & Again», Interventionen im öffentlichen Raum /
Karlsplatz, Wien
816cm Haut, «AN:ORDNUNGEN», Ausstellung in Zusammenarbeit mit
Liquid Loft / Liquid Loft Studio, Wien
coded mind
2012, (two-channel) sound installation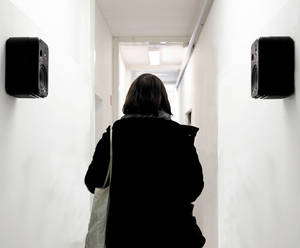 Die Soundarbeit coded mind basiert auf dem Gedanken, virtuelle Kommunikation akustisch wahrnehmbar zu machen. Codes, Passwörter, etc. bestimmen unseren täglichen Umgang mit dem www und gewähren Zugang zu einer beinahe unbegrenzten Masse an Information. Die Tastatur dient dabei als Medium zwischen Privatem und Öffentlichem, zwischen der Idee des Kunstschaffenden und ihrer Publikation.
Mit dem Eintippen und Speichern persönlicher Gedanken stellt die Arbeit jenen Sound ins Zentrum, der beim Benützen der Tastatur, also beim Prozess des Festhaltens entsteht. Auf soundcloud hochgeladen wird der akustische Text bei zeitgleichem Abspielen nochmals getippt und aufgezeichnet. Die wiederholte Handlung des Tippens wird zur medialen Spiegelung.
Der spezifische Inhalt des Textes wird unsichtbar und bleibt bestehen als Assoziationen hervorrufende Form. Die Einzelperson verschwindet hinter der propagierten Idee. Was bleibt, ist die innere Kommunikation nach Außen, um Denkanstöße anzubieten.
Formen freier Kulturdistribution als Mittel, breite Massen zu erreichen, stehen jedoch der Frage gegenüber, inwiefern künstlerische Produktionen ihren Wert verlieren, wenn sie als anonyme, freie Ware gehandelt werden.
The sound installation coded mind is based on the idea of rendering virtual communication acoustically perceivable.
Codes, passwords, etc. determine our daily use of the internet and give us access to an almost unlimited amount of information. The keyboard serves as a medium between the private and the public realm, between the artist's idea and its publication.
By typing and saving personal thoughts, coded mind focuses on the sound that is generated when using the keyboard, i.e. during the captioning process. Uploaded to soundcloud, the acoustic text is retyped and replayed while at the same time being recorded. The repeated act of typing becomes a media-based mirroring.
The specific content of the audible text becomes invisible but still persists as a form which evokes associations. The individual disappears behind the idea. What remains is the inner communication with the outside world in order to provide thought-provoking impulses.
However, the free digital distribution of cultural goods in order to reach a wider audience raises the question by how much cultural commodities are devaluated when they are shared as anonymous goods which are available for free.