Frank Gassner, Irene Prieler, Michael Wildmann
Frank Gassner ist freischaffender Künstler, von 1998-2010 persönlicher Assistent von Hermann Nitsch, beschäftigt sich mit Video, Fotografie und Gegenständlichem am Rande des Abstrakten. Er gründete 2005 die selbstverwaltete Werkstatt WERKIMPULS und ist an der Umsetzung der offenen Bücherschränke in Wien maßgeblich beteiligt.

Frank Gassner is a freelance artist, Personal Assistant to Hermann Nitsch from 1998-2010, works with video, photography, and also with concrete objects on the edge of the abstract. He founded the self-governed workshop WERKIMPULS in 2005 and has a leading role in the realization of the Viennese open bookcases.

www.frankgassner.org


grundstein ist konzipiert als offenes Kollektiv für kontextuelle Arbeiten an der Schnittstelle von Architektur, angewandtem Urbanismus, Design, Kunst, sozialem Raum – initiiert 2006 von Michael Wildmann und Irene Prieler. Ihre Projekte entstehen im transdisziplinären Austausch oszillierend zwischen den jeweiligen künstlerischen, technischen und wissenschaftlichen Disziplinen.

grundstein is designed as an open collective for contextual works at the point of intersection of architecture, applied urbanism, design, art, social space – initiated in 2006 by Michael Wildmann and Irene Prieler.
Their projects are developed through a transdisciplinary exchange oscillating between the respective artistic, technological and scientific disciplines.

www.grundstein.cc
Offener Bücherschrank Open Bookcase
2010, Wood, paint, photos on hard-foam panel, books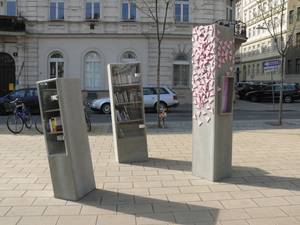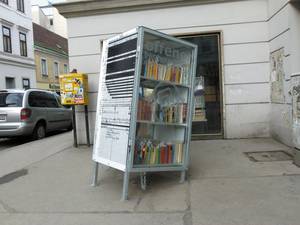 Frank Gassner errichtete 2010 den ersten offenen Bücherschrank in Wien Neubau. Dieser Kasten im öffentlichen Raum ermöglicht den einfachen und unkomplizierten Austausch von Büchern.
Sie können Bücher nehmen.
Sie können Bücher geben.
Keine Anmeldung. Keine Kosten.
Weitere Schränke folgten im Juni 2010 in Ottakring in Zusammenarbeit mit Irene Prieler und Michael Wildmann sowie im März 2011 in Alsergrund.
Die Gestaltung der Schränke wird stets in intensiver Auseinandersetzung mit dem Ort und der Umgebung entwickelt. Die Idee hat zahlreiche inhaltliche Vorbilder im vorwiegend deutschsprachigen Raum. 2012 wurde der Schrank in Neubau erneuert. Die Außengestaltung trug Hermann Nitsch bei. Die offenen Bücherschränke sind eine Initiative um die Lesekultur zu fördern. Sie besetzen den öffentlichen Raum mit einer nichtkommerziellen Nutzung, sind ein sozialer Treffpunkt und ein gelebtes Beispiel wie Warenaustausch abseits des Monetären funktionieren kann.
Das Projekt finanziert sich nahezu exklusiv aus privaten Mitteln von
Frank Gassner.
In the year 2010, Frank Gassner built the first open bookcase in the Viennese district Neubau. This bookcase in the public space makes it possible to swap books easily and without a fuss.
You can take books.
You can donate books.
No registration. No costs.
In June 2010, more bookcases followed in the district Ottakring in cooperation with Irene Prieler and Michael Wildmann and in March 2011 in the district Alsergrund.
The design of the bookcases is always the result of intensive examination of the space and its surroundings. The idea is modelled on many forerunners in the German-speaking world. In 2012, the bookcase in Neubau was renewed. The exterior design was a contribution by Hermann Nitsch. The open bookcases are an initiative to support the culture of reading. They occupy the public space with a non-commercial utilization, are a social meeting site and a vivid example of how the exchange of goods can function on a non-monetary basis.
The project is financed almost exclusively by Frank Gassner's private resources.
Spendenmöglichkeiten | You can donate here