Fabry + Kronberger
Anika Kronberger (monochrom) *1981, Eberstalzell
Daniel Fabry (monochrom) *1979, Graz
Beide leben und arbeiteten in Graz both live and work in Graz
2013 "Die waren früher auch mal besser. monochrom (1993-2013)" -
MUSA, Wien
2011 "The Wonderful World of Absence - monochrom's Zeigerpointer" -
Aksioma, Ljubljana
2009 "Absolutely Free - Der Woodstock Effekt" - Landesmuseum Joanneum,
Graz
"Woher der Wind Weht" - HAU, Berlin
Le Frotteur Éléctronique (Do you carry your data left or right?)
2013, Interactive multi-media installation (textiles, NFC-tags, mobile device, micro controller, screen, speaker, electronics)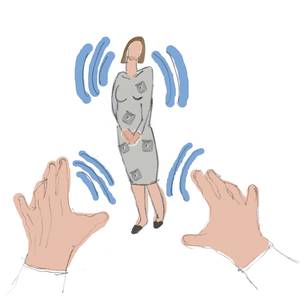 Informationstechnologie zum Anziehen ist ein alter Hut (diese Metapher passt übrigens wie angegossen), aber mit ihrem Projekt, einer Kombination von Datenkleidungsstücken und mobiler Kommunikationstechnik, haben Anika Kronberger und Daniel Fabry (beide Gruppe monochrom) etwas Neues aus diesem Hut gezaubert, etwas, das vielfältige Anwendungs- und Ausweitungsmöglichkeiten bietet:
Le Frotteur Éléctronique besteht aus RFID/NFC-durchwirkter Wäsche und Oberbekleidung, die mit komplementären sensorischen Handschuhen bzw. mit Handys Daten austauscht. "Le Frotteur" kann auch Multimedia-Streams steuern. So entsteht die Möglichkeit einer technologisch unterstützten Körpersprache im engeren Wortsinn: Datenhandschuhe gleiten über den elektronisch verhüllten Körper und empfangen sowohl intime Mitteilungen als auch Mitteilungen von allgemeinem Interesse - ein Kleidungsstück beginnt über seinen Inhalt (die Person, die in ihm steckt, die Körperstelle die es bedeckt) zu berichten - die Redensart "Jemanden ausgreifen" bekommt eine neue, vielleicht weniger anzügliche Bedeutung. Der Begriff "Datenträger" erhält eine unerwartet menschliche Dimension.
Die Art der Kleidung, der Charakter der Mitteilungen, die Intensität der medialen Aktionen sind bei diesem Konzept variabel. Ein Setting, ähnlich abwechslungsreich wie die Mode selbst.
(Orhan Kipcak)
Wearable information technology is old hat (actually, this metaphor fits like a glove) but with their project – a combination of data garments and mobile communication techniques, Anika Kronberger and Daniel Fabry (both members of the group monochrom) managed to pull something new out of this hat, something that offers multiple application and extension possibilities.
Le Frotteur Éléctronique consists of RFID/NFC-enwrought underwear and outerwear exchanging data with complementary sensory gloves or with mobile phones. 'Le Frotteur' is also able to control multi media-streams. This offers the potential to create a technology supported body language in the most literal sense: data gloves glide over the electronically cloaked body and receive intimate messages as well as messages of general interest – a garment starts to report about its content (the person in it, the body part it covers) – which gives a whole new and maybe even less raunchy meaning to the expression 'to feel someone up'. The term 'data carrier' acquires an unexpected human dimension.
The type of clothing, the character of the message, the intensity of the media-based activity are the variables within this concept. A setting which is just as diversified as fashion itself.
(Orhan Kipcak)