Gordan Savicic
*1980 in Rotterdam, lebt und arbeitet in Berlin, Lausanne, Rotterdam, Vienna
*1980 in Rotterdam, lives and works in Berlin, Lausanne, Rotterdam, Vienna
2013 Prospects and Concepts / Art Rotterdam / Rotterdam / NL
2012 Media Art Biennale / Spell on You / Museum of Art / Seoul / KR
Sensing Places / House of electronic Arts / Basel / CH
2011 Constraint City / Tracing Mobility / Berlin / DE
web2.0 suicidemachine / Jeu de Paume / Paris / FR
web2.0 suicidemachine
2010, Social Network Intervention, customized Linux code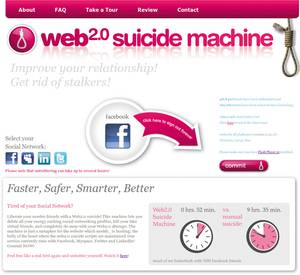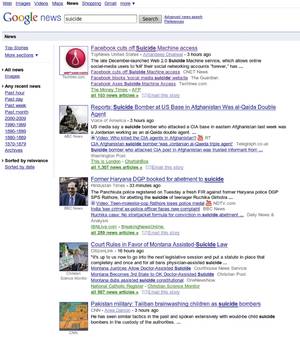 Die Web 2.0 Suicide Machine ist ein Service, das es Benutzern von Facebook, MySpace, LinkedIn und Twitter, die dieser Plattformen überdrüssig geworden sind, ermöglicht, "Social-Network-Selbstmord" zu begehen, indem automatisch all ihre privaten Inhalte und Freundschaftsbeziehungen gelöscht werden – allerdings ohne deren Accounts zu löschen oder zu deaktivieren. Dieses Service ist Teil der Non-Profit-Stiftung WORM, die ihren Sitz in Rotterdam in den Niederlanden hat. Es wurde von moddr_, dem Medialab von WORM, entwickelt. Anstatt Benutzeraccounts zu löschen, entfernt es private Inhalte und Freundschaftsbeziehungen. Um den Selbstmordprozess zu starten muss der Benutzer seine Login-Berechtigung der Plattform zur Verfügung stellen, von der er entfernt werden möchte, um dann sein Leben an sich vorüber ziehen zu sehen und über echte und virtuelle Freunde nachzudenken, während private Inhalte und Freundschaftsbeziehungen gelöscht werden. Zu guter Letzt wird der User in ein Gedenkalbum eingetragen, in dem alle Selbstmörder mit ihrem Profilfoto, ihrem Namen und ihren letzten Worten verewigt werden.
Die Web 2.0 Suicide Machine hat bis zum April 2012 in über 10.000 Fällen von virtuellem Selbstmord assistiert und dabei über 1.922.800 Facebook-Freundschaften beendet sowie 2.276.000 Tweets auf Twitter gelöscht.
The Web 2.0 Suicide Machine is a service that helps users tired of Facebook, MySpace, LinkedIn and Twitter, to 'commit suicide in social Networks', by automatically 'removing their private content and friend Relationships' - but without deleting or deactivating their accounts. The service is part of the non-profit foundation WORM, based in Rotterdam, Netherlands. It was developed by moddr_, the media lab by WORM. Rather than deleting user accounts, it removes private content and friendships. To start the suicide process, the user has to provide their login credential for the social network from which they want to be deleted, and then 'watch your life passing by and reflect upon your real & virtual friends', while private content and friend relationships are removed. In the end the user is included in a memorial album of all the suicides, with their profile picture, their name and their 'last words'.
The 'Web 2.0 Suicide Machine' has, as of April 2012, assisted with more than 10,000 virtual deaths, ending more than 1.922.800 friendships on Facebook and removing 2.276.000 tweets from Twitter.