Julian Palacz
*1983 in Leoben, AT, lebt und arbeitet in Wien Leopoldstadt und
Mürzzuschlag, A
*1983 in Leoben, AT, lives ans works in Wien Leopoldstadt and
Mürzzuschlag, A
2013 Cube Prize, Paris, FR / Algoshorts Film Festival, Plymouth, UK / The
Rhythm of 011000010111001001110100, Regensburg, DE.
2012 Paratactic Commons – amberFestival'12, Istanbul, TR / Tehran Annual
Digital Art Exhibition, Mohsen Art Gallery, Tehran, IR
Ich-Aktie I-share
2011, Plot auf Papier/ Plot on paper, 150x700cm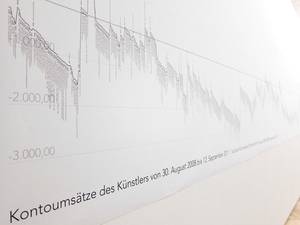 In der Werkreihe "Ich und die Bank" entstand die Ich-Aktie als ein riesiges Diagramm, welches hochdetailliert meine Kontoumsätze der letzten 2 Jahre und die dadurch entstandenen Kontobewegungen veranschaulicht. Immer wieder stürzt der Aktienkurs in die Tiefe und wird anschließend durch rettende Zahlungen wieder stabilisiert. In winziger Schrift sind die einzelnen Bewegungen wie "-20,00 BANKOMAT 33591 KARTE2 07. 03. UM 12.05" zu erkennen und geben ganz genauen Einblick, nicht nur in mein Konto, sondern auch in mein Leben.
As part of the series 'The bank and I', I-share is depicted as a huge chart which shows in great detail the artist's bank transactions and the resulting account activities of the past two years. The stock price plummets repeatedly to be then saved and stabilized by cash infusions and deposits. In tiny letters, individual transactions such as '-20,00 BANK MACHINE 33591 CARD2 07. 03. AT 12.05' appear and are granting a glimpse of not just the artist's bank account but also of his life.
I am the 99%
2011, 56 Kontoauszüge/ 56 bank statements 50×70cm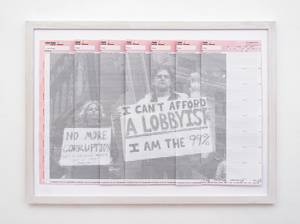 In der Werkreihe "Ich und die Bank" entstanden, illustriert I am the 99% ein Bild der derzeitigen Finanzkrise. 56 Kontoauszüge protokollieren Überweisungen, deren Zusatztext aus unterschiedlichen Schriftzeichen bestehen und die in geschickter Kombination ein großes Bild ergeben, welches zwei Protestierende der #OccupyWallStreet-Bewegung darstellt. Die Überweisungen und die damit einhergehenden Kontoauszüge erweitern sich mit dieser Manipulation zur Zeichenfläche, eine Botschaft wird ins System Konto eingeschlossen.
As part of the series 'The Bank and I', I am the 99% illustrates the global credit crunch. 56 bank statements record financial transactions of which the additional texts, consisting of various carefully composed characters, create a big picture showing two protesters of the #OccupyWallStreet-movement. Through this manipulation, the transactions and the resulting bank statements expand and turn into a canvas, a message is embedded in the banking system.